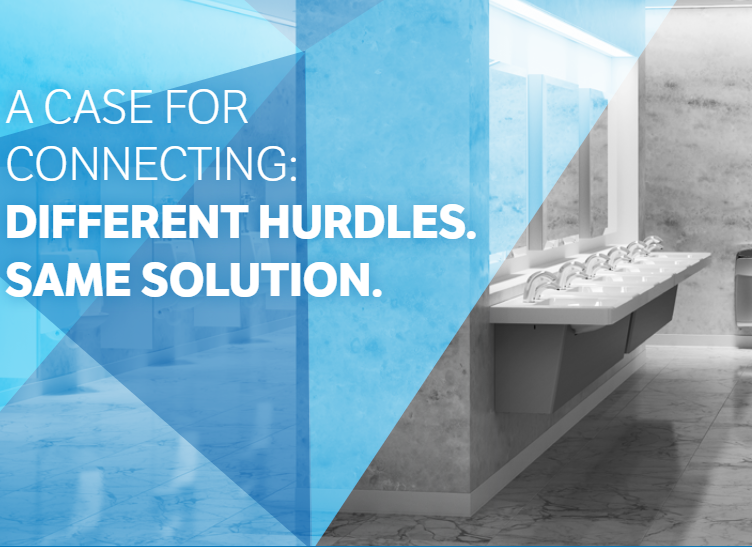 Smart restrooms cut down on guest con
gestion and germ transference from hands to surfaces…to more hands and more surfaces. IoT-enabled flush valves, faucets, soap dispensers and occupancy sensors use real-time data to monitor performance, pinpoint peak traffic times, detect outliers (like clogs or vandalism), and keep the entire user experience hands-free and problem-free. 
For the most sensitive space in your entire building, that's an ideal scenario. Therefore, it's no surprise smart restroom upgrades continue to rise, and these solutions continue to improve their capabilities for sanitation, water savings, maintenance and custodial teams, and guests' needs. 
Smart makes sense, but like anything, the decision process needs to make sense to building owners before it can happen. So, what's holding back these future adopters? Hesitation stems from a few things, namely initial upgrade costs, choice overload, and general questions around what features to look for beyond more uptime and touchless operation. People want to understand their options and what suits their restroom environment. 
Instead of delaying your decision making even more, let's get to answering the most common questions we get about smart restrooms. 
Can I get financial assistance for my restroom upgrades?
This is a biggie. Enterprises and government entities face ranging challenges, but budgets are always a factor, no matter what your year introduced. 2020 magnified challenges and shrunk budgets. Fortunately, relief funding exists for restroom upgrades that promote hand hygiene and sanitation.
While availability and eligibility vary state by state, industry by industry, here are possible funding opportunities to check out. You may also find assistance through local resources, like water utilities and community banks. Visit their websites to see if rebates are out there or go to the EPA Rebate Finder page. 
What about financial assistance for healthcare facilities? 
Speaking of taking on challenges and budgets, healthcare facilities proved their agility in the face of adversity. Smart restrooms help this specific industry achieve more uptime, back handwashing best practices, and put cost savings back into patient care. Learn more about eligibility and the application process on the CARES Act site. 
How does clog detection work? 
Currently, any warnings from a failure, like a clog, are triggered by irregular flushing patterns. The data collected is compared to nearby fixtures and past performance metrics. Your technologies never stop learning the environment, so improvement is also ongoing. Clogs detected from water not flowing through a fixture will come to market in the next year or so. Preventing clogs allows for fewer out-of-order stalls and less restroom congestion. 
Can we make our existing sensor fixtures smart without entirely replacing them? 
Not all manufacturers offer scalable solutions, but some do. Zurn's sensor fixtures upgrade to smart capabilities without fully replacing your flush valves, faucets, etc. You can connect what's already installed to receive real-time data alerts and insights around restroom performance. That way, you'll save time and costs. 
Is a ½-inch feed line sufficient for urinals and sink faucets? 
A ½-inch line is sufficient for the majority of manual or sensor faucet applications. Urinals depend on the flushing volume. Most North American urinal flush valves utilize ¾-inch inlet lines. When a flush valve is specified to use a 0.125 GPF pint flow urinals, the inlet piping can be downsized to ½-inch supply lines. 
Can I retrofit any type of flush valve or faucet? 
Our retrofit flush valves work with Zurn, Sloan and several other commercial manufacturers. Our retrofit faucets also apply universally. Reach out to a Zurn expert to discuss easiest path to upgrade.
Can you upgrade to smart and sustainable? 
Consider hydropower solutions. These battery-operated fixtures efficiently generate and store energy from the source. The internal turbine systems transform flowing water into dynamic power, which is already smart if you think about it.
Our Z6950, Z6955, Z6953, Z6956 Series feature Hydro•X Power. The hydropower harvests energy with just a few activations each day to take each battery life ten years uninterrupted. That's a decade without tossing your fixture's batteries in your landfills, year after year, restroom after restroom, fixture after fixture! Our solutions also offer low-flow rates to help you save water too and achieve your LEED goals.
One last question—did we answer all of yours? If not, reach out to our team of experts so you can make smart decisions for your restrooms.