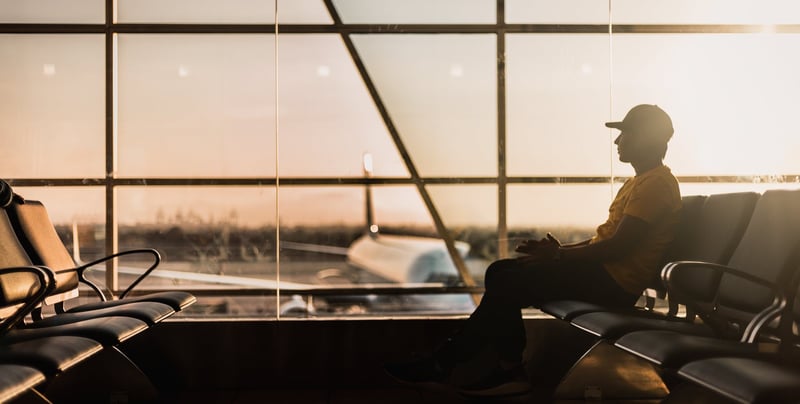 Have you ever noticed how the latest innovations tend to take off with the airport industry first? I mean, whoever thought of the cosmetic and electronics vending machines deserves a medal. Or how about using your own identity as your passport? That's an actual thing in the works. Let's face it (pun intended), airports experience high traffic and even higher risks. They need to accommodate a lot of people to keep everyone both happy and safe.
Smart technologies streamline the traveler experience and improve operational efficiency. So, whether it's self-service check-in kiosks to speed up the process or AI baggage-drop terminals to track your suitcase from point A to point B, C and maybe even D, airports keep moving forward.
Now, you may be wondering if airports are in neutral or if they've slowed down on innovation while we transition through the turbulence. In short, not really. Safety now matters more than ever. This approach puts hand hygiene and the user experience as top priority. Today, airports care most about reducing germ transference and easing traveler concerns.
Beyond mobile check-in and contactless dining, smart restroom technology enhances the intuitive, touch-free experience. For several years, airport travelers ranked cleanliness as one of the most important factors in their satisfaction, according to J.D. Power and Associates research.1 Now, it's non-negotiable.
Airports are elevating touchless technology with smart capabilities to create a seamless process for travelers and maintenance. These solutions help cut down on long lines and congestion. Staff can perform tasks at low-traffic periods and see exactly what needs to be done versus manually checking every fixture. In the process, airports cut down on water use, save costs and optimize resources' time and performance overall.
Real-Time Data Makes a Real Difference
Smart fixtures monitor their own performance using sensors to gather data, which facilitates deeper understanding for airport maintenance and facilities professionals. Data is communicated via wireless technology to a secure cloud portal, such as plumbSMART. Teams can use these data-driven insights to conserve water, reduce costs, and enhance cleanliness.
Smart faucets and flush valves uncover patterns across the restroom, down to the fixture level. Staff can see when a part is near end of life, such as a solenoid, and order the parts through the system, schedule the task around user patterns and avoid any downtime or disruption. Staff can also respond faster to handwashing and toilet system repair issues through real-time alerts, instead of hours upon hours while users circulate in and out with displeasure.
When the smart flush valves and faucets are integrated, they provide a handwashing scorecard. This tracks the ratio of flushes to frequency and duration of hand washes to promote hand hygiene from all users, personnel and travelers. Other smart solutions that enhance the user experience include stall occupancy lights and smart air quality sensors that send real-time alerts when attention is required.
Smart Restrooms Lead to Satisfaction
Smart restrooms. But in reality, it's a way all industries can speed up restroom visits, shorten and space out lines, promote hand hygiene, and help staff maintain a cleaner, high-functioning restroom environment with fewer surprises and manual tasks. And if sanitation wasn't reason enough, it's a way to conserve our most precious resource—water.
Learn more about smart, touchless solutions for any industry